Demand Response
Demand response – can be defined as the reduction of electrical consumption at the customer level in response to high wholesale electricity prices, the independent system (ISO) capacity needs or system reliability events during peak periods. This reduction can be achieved through curtailment or by self-generation, such as turning on backup generators. Customers may receive payment for participating in such demand reduction programs. Demand Response programs address supply and demand issues and present a win/win for all parties such as the ISO, utilities and the end-user by increasing grid reliability while helping to keep energy prices low.
The purpose of demand response (DR) is to provide capacity during peak demand periods. In many systems in the US, up to 10% of peak demand occurs in less than 1% of the hours in the year. DR programs can provide demand reductions during the hours of the year when demand is the highest, serving as a cost effective and reliable method to reduce peak demand and improve overall system stability.
A customer that elects to enroll in such a program may receive payments in the form of capacity payments and energy payments, based on the level of demand that you feel you can reduce during peak demand periods, or events.

Here is a brief overview example of how the DR program would be applied, using the PJM Interconnection as the ISO. PJM is the world's largest electric grid and includes all or parts of the states of PA, NJ, MY, WV, V, KY, OH, IN, and IL:
The program would only apply to the period of June 1 - September 30th, and only during the hours of 12 pm to 8 pm.

The maximum number of events would 10 per year (the average is 1-2 events /year).

Event notification would be a minimum of 30 minutes in advance.

The duration of the event could be up to 6 hours (the average is 3-4 hours).

Capacity payments (for being on-standby) and Energy payments (for actual event performance) would be forwarded to the end-user.

There are no up-front costs to participate.
A Demand Response program may or may not be suited for your type of process or production. If you think that this sounds intriguing enough to gain some initial information, EMR will provide a no-obligation review, that based on your electric load profile and the demand reduction you think you could shed during the program's months, will show the projected capacity and energy payments you would receive over the term of the program, which is usually three to five years.
Contact us today to discuss how these options may benefit you.
Steve Lawrence at 816-585-6015 SLawrence@emr-energy.com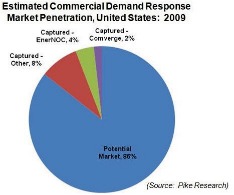 or
Gary Collins at 816-883-1002 GCollins@emr-energy.com
Department of Energy - Energy Efficiency and Renewable Energy Programs by State

(Source: Department of Energy)